Most of our time is spent indoors, whether in the office, in shops or at home. Traffic, industry and other sources of emissions produce tons of particulate matter daily. Of course, this air also penetrates our living rooms, shops, offices, etc. Then there is dust, food scents and much more. Often, the air in closed rooms is more heavily soiled than at a road intersection.
Our airvenue® ensures fresh and clean air, which we should never go without.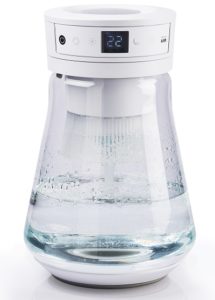 Model
airvenue®
Capacity (glass container)
approx. 2 litres
Voltage on the device
12 V
No 220 -240 V on the device! Alternating current is already reduced in the power pack!
Mains
Model number:

NLB100120W1E4S58

Rotation speed
3,500 rpm
Electrical connection
12 V DC
Colour range
12 LEDs
Timer
1 – 9 hrs.
Room temperature indicator
in °C
Air flow level medium (Source: Tinschtl AG)
11.63 m3/h certificated according to DIN EN ISO 12569
Scope of delivery
airvenue® air freshener
Power Pack
User manual
Dimensions
approx. 190 x 290 mm (W x H)
Weight
approx. 1.6 kg.